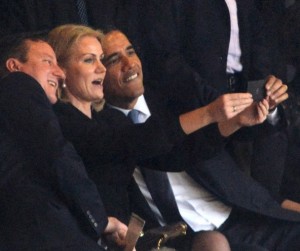 I think the way death is presented in our culture is so interesting. A while back, I wrote about understanding the cultural differences around death. Some traditions, like visiting the cemetery, used to be a regular occurrence, back when cemeteries doubled as places to socialize, get out in nature or just take a walk and reflect. Now, for the most part, we only visit cemeteries on significant anniversaries or holidays.
I understand that traditions naturally change with time, but it made me wonder about what practices we may have outgrown. One such tradition, I suspect, is the practice of maintaining a solemn demeanor at funerals.
I was reminded of this last month, when luminaries and world leaders gathered to attend the funeral of Nelson Mandela.
In addition to solemn retrospectives and heartfelt remembrances of Mandela in the press, some news coverage focused on interesting tidbits that emerged from the funeral itself. There was President Obama's controversial handshake with Cuban President Raul Castro and the fake sign language interpreter.
But what was fascinating was the uproar over the self-portrait – more popularly known as a "selfie" – snapped by Danish Prime Minister Helle Thorning-Schmidt on her smartphone camera phone, which included President Obama and British Prime Minister David Cameron.
It was interesting to me because the smiles weren't out of sync with the spirit of the event. Several days after the funeral, the photographer who took the picture described the scene as festive and celebratory, rather than somber. He said, "All around me in the stadium, South Africans were dancing, singing and laughing to honour their departed leader. It was more like a carnival atmosphere, not at all morbid."
To many – including me – the festive atmosphere seemed a fitting way to commemorate Mandela's amazing life and his accomplishments – which inspired a generation of world leaders, including the three subjects of the selfie mentioned above.
Nevertheless, media and political critics in both the U.S. and the U.K. panned the photo as inappropriate and disrespectful. While some of the criticism stemmed from what was considered conduct unbefitting heads of state, it also had to do with what is considered "proper" conduct at a funeral.
Across cultures, funeral-type events are handled differently, but the U.S. and the U.K. seem to share a reserved approach to death. Even as the U.S. appropriates other cultures' treatment of death – for example, Dia de los Muertos and New Orleans Second Line parades, which are both festive and party-like celebrations of death – there's a prevailing notion that death is a serious affair.
So, when these norms are disregarded, as in the case of President Obama's selfie – or more correctly the Danish prime minister's selfie as it was her smartphone – the backlash is quick and fierce.
However, the tide seems to be turning as far as people in their attitudes towards death. In a growing number of cultures, peoplegather over dinners to discuss their end of life plans and shows like Showtime's "Time of Death" take an honest, unflinching look at the lives of individuals in their final days.
While every person and every family should make their own decisions about death and dying, I believe there is room to embrace the example set by Nelson Mandela's funeral: though certainly an acknowledgement of a person's death, funerals also are an opportunity to celebrate life.
And that's something to smile about.